Friday is Riesling Night at the Shop!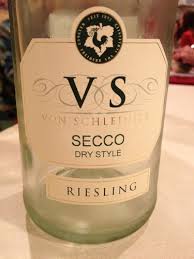 I was delighted to find this unique wine one day at a friend's house in Nashville. Once I tasted Von Schleinitz Riesling, I rediscovered the grape. Ever since then I have been excited to share this gorgeous value wine with our customers.
Friday night Thomas Haehn from Von Schleinitz Vineyards will be in the shop tasting everyone on his family's premium Rieslings. This is an opportunity to experience several styles of Riesling. Thomas will explain to customers how the wine is made in Mosel, Germany. This is an excellent free learning opportunity as well as a rare treat! Wines will be available for purchase at 15% off! 
Come out Friday night from 5-7 P. M. and sip and learn!